What would Victoria's Secret be without Brazilian models? Just a lot of empty lingerie. It's no secret that Brazil is famous for some of the most beautiful woman in the world. They dominate the Catwalk with their sexy sway, arched backs and killer legs. These model have earned themselves campaigns with top designers and are a a few of the highest paid models, ever. Although many stunning woman come from Brazil, here is a list of the top 10 Brazilian models.
1. Gisele Bündchen
Gisele Bündchen – "The Body", that's what they call her. No one can bend their back at the end of a runway like she can. She was discovered by an Elite Modeling Scout in 1994 and was born July 20, 1980 in Horizontina, Brazil. She has a twin sister (yes world, there is indeed two of these beauties) and she has appeared on more magazine covers than any other supermodel. She has worked for several charities and is currently an activist for protecting the Amazon Rainforest.
Gisele has been labeled "The Most Beautiful Woman in the World" by Rolling Stone, ranked first on Forbes list of "World's Sexiest Supermodels" and was named one of the "100 most Influential People in the World" by TIME. She was the highest paid model in the world in 2007 and 2008. She started doing runway in 1997 and she has worked for every high end designer in the world. She went into retirement from the runway in 2001 but later to decided to come back out. Thank you Gisele, the world was NOT ready for you to retire yet!
Adriana Lima
Adriana Lima – the most famous model since Gisele to come out of the country. This Brazilian model is most popular for being a Victoria's Secret Angel and she was a spokesmodel for Maybelline. In 1996 she placed second in ford's "Supermodel of the World" contest. Lima became the hottest GUESS? Model since Claudia wore those jeans. She was born June 12th, 1981 and is well known for her Vanity Fair cover where she wears shoes, diamonds and gloves; she was also the face of Givenchy for 2009. In 2006 she ranked as fifth highest paid supermodel and for years 2007 and 2008 she was ranked fourth. Adriana was People Magazine's "100 Most Beautiful People" nominees and is currently named one of the most sexiest women n the world.
Flavia de Oliveira
Flavia de Oliveira – her legs can be spotted a mile away landing her on Style's Top 10 Models list in 2006. She was born on July 17, 1983 in Lendrina, Brazil where she signed with top agencies Ford and Viva and resides in NYC. Flavia has walked for about every designer including Nina Ricci, Victoria's Secret, Giorgio Armani, Michael Kors, Ralph Lauren, Christian Dior, Valentino and Luca Luca just to name a few. Those long legs have earned her campaigns with Salvatore Ferragamo, Adidas, Blumarine, Victoria's Secret, GAP and Bennett.
Cintia Dicker
Cintia Dicker – there's not another woman around that looks like her with her, freckles and perfect pout. She is a natural beauty, scouted at a mall in 2001. Cintia was born December 6, 1986 in Campo Bom, Brazil and now lives in NYC. She walked her first Catwalk in 2004 and has done so for Benjamin Cho, Mischka, J Mendel, Gucci, Anna Sui, Peter Som, Matthew Williamson, Dolce & Gabbana and Betsy Johnson. Her freckled face has graced the covers of D Magazine, Elle France, Fashion, Glamour Italy, Spur and Vogue Brazil. When this fiery red head pouts, people pay attention.
Caroline Trentini
Caroline Trentini – discovered walking down the streets in her home place of Panambi, Brazil, she is known for her distinct walk. She was born July 6th, 1987 and is signed with three agencies including Marilyn,Storm and Why Not. She started runway in 2004 and has walked for every great designer including Victoria's Secret, Vera Wang, Dolce & Gabbana, DKNY, Anna Sui, Christian Dior and Marc Jacobs just to name a few. Her campaigns include Marc, BCBG, Gucci, Oscar da la Renta, Mulberry, Dsquarred2, DKNY and D & G. Caroline became a vegetarian after a photo shoot of a meat freezer in 2004. She's appeared on The Today Show and nominated best dressed in 2007.
Isabeli Fontana
Isabeli Fontana – after winning the Brazil Elite Model look at 13 years of age she moved the very next year to Milan to model. She was born July 4th, 1983 in Curitiba, Brazil and is known for her lips and her body. She enjoys kickboxing and is the mother of two sons, Zion and Lucas. Isabeli was ranked the 11th highest paid model in 2008. Some of her runway jobs have included Givenchy, Michael Kors, Versace, Victoria's Secret, BCBG, Valentino, Miss Sixty and the list goes on and on. A few of her campaigns includes Victoria's Secret, Versace Crystal Noir, Revlon, H& M lingerie, Valentino and Versace. That gorgeous body has earned her the covers of Elle Brazil, Elle Korea, Flair, Vogue, Vogue Brazil, Vogue Paris and Vogue Spain.
Bruna Tenorio
Bruna Tenorio – known for her eyes and exotic look, Bruna was born June 27th, 1989 in Maceio, Alago, Brazil and now resides in NYC. In 2007 she was labeled a rising star and a face to watch. She debuted her first runway show in Spring of 2007 and has already walked the Catwalk for Chanel, Christian Dior, Dolce & Gabbana, Vera Wang, Dsquarred2, Armani Prive, Christian Lacroix, Jean Paul Gaultier, Alexandre Herchcovitch, Undercover, Zac Posen and Giorgio Armani. Her campaigns include Chanel, D & G, Kenzo, Anna Sui, Vera Wang and more. Bruno found herself on the cover of French Revue de Modes, L'Officiel, L'Officiel Brazil and Vogue Brazil. With her distinct Brazilian/Native American look, she truly is one to watch.
Jeisa Chiminazzo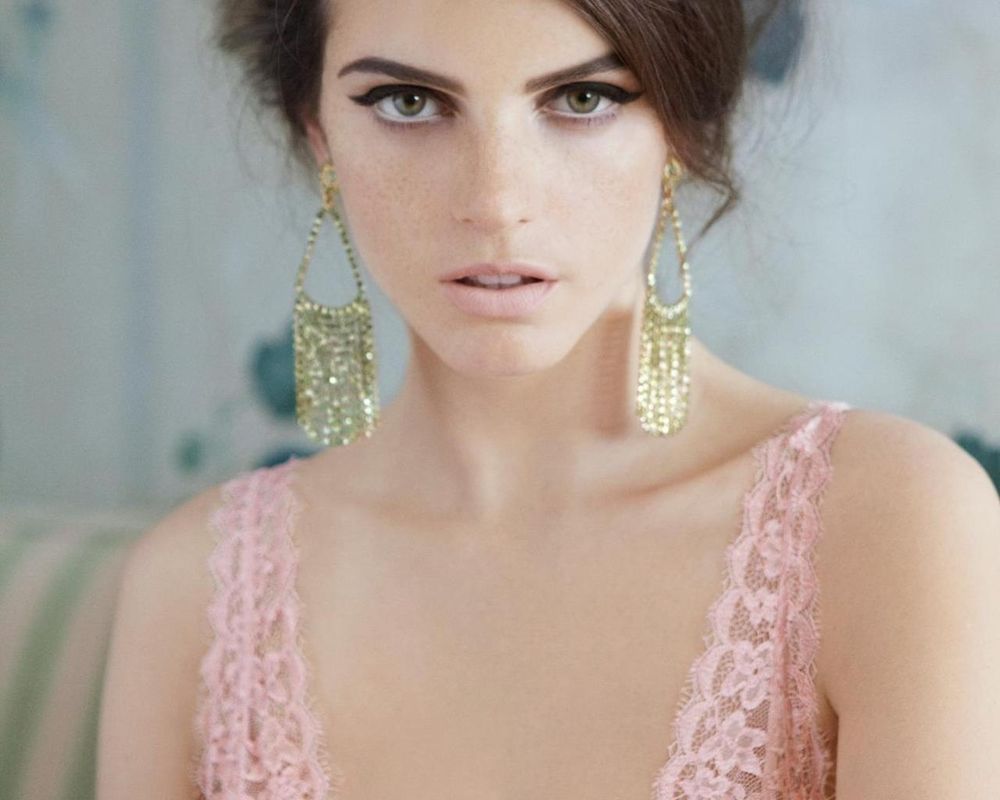 Jeisa Chiminazzo – born April 12th, 1985 in Rio Grande do Sul, Brazil, she's another Brazilian model known for her lips. She is one of the few models who has had the opportunity to walk for Balenciaga, nine consecutive seasons, in addition to doing fashion shows for Victoria's Secret, Lacoste, Dolce & Gabbana, Chanel, Blumarine, DKNY,Hogan and many more. This beauty if loved by Vogue Magazine and has appeared on the cover of Vogue Brazil, Deutsch, Espana, Nippon, Paris and Russia.
Ana Beatriz Barros
Ana Beatriz Barros – born May 29th, 1982 in Minas Gerais, Brazil and now resides in NYC. She was discovered after winning first place in Brazil's elite Model Look Contest and she is signed with Elite. Ana is known for her absolutely perfect body and does fashion shows for Victoria's Secret, Valentino, Christian Dior and Christian Lacroix. This beauty has graced the covers of Elle Spain, Glamour Italia, GQ Britain, GQ Italia, Marie Claire France, Sports Illustrated and Vogue Brazil. Ana enjoys beaches, museums an bike riding.
Emanuela de Paula
Emanuela de Paula – discovered walking the streets of Recife, Brazil, no one has lips like this girl. She was born April 25, 1989 and loves singing, dancing and photography. Emanuela walked her first runway in 2005 and continued doing so for Baby Phat, Sweetface, Ralph Lauren, Lacoste, Tommy Hilfiger, Rock & Republic and Tracy Reese. Her unique look has landed her campaigns with DKNY, Victoria's Secret, Tommy Hilfiger, H & M, M.A.C., Sephora and the Toy Shop.
There's no way to know what it is about Brazil that gives us so many beautiful woman. Maybe it's all of the sunshine, beautiful beaches and cultural lifestyle. One thing is certain, New York City sure is thankful that they all find their way to set up residence there eventually. As long as girls to women in Brazil, we will always have a Top 10 Brazilian Models list.